Name: Styrene
CAS Number: 100-42-5
UN Number: 2055
Formulae: C8H8
Name: Styrene
CAS Number: 100-42-5
UN Number: 2055
Formulae: C8H8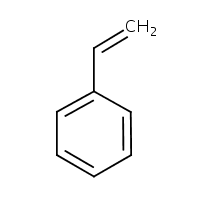 Physicochemical properties/Characteristics
FE

Physical behaviour (GESAMP, 2016)

1, 2

104.152

Molecular Weight
(g/mol)

2

0.91

Density
(kg/L)

2

0.85

Vapour pressure
(KPa; 25ºC)

2

300

Water solubility
(mg/L; 25ºC)

2

0.70

Dynamic viscosity
(mPa.s; 25ºC)

2, 3

-31.0

Melting point (ºC)

2

145.0

Boiling point (ºC)

2

27.1

Volatilization half-life (days)

4
G: gas; D: dissolver; E: evaporator; F: floater; S: sinker; GD: gas/dissolver; DE: dissolver/evaporator; FD: floater/dissolver; FE: floater/evaporator; FED: floater/evaporator/dissolver; Fp: persistent floater; SD: sinker/dissolver
Values collected from the literature and public databases e.g. PubChem
"-" corresponds to values not found
Values estimated with models of the EPI suiteTM
Fugacity/Persistence
1.01

Air

4, 5

97.20

Water

4, 5

0.01

Soil

4, 5

1.74

Sediment

4, 5

8.2

Persistence (days)

4
Values estimated with models of the EPI suiteTM
In the present study, only emissions in water were considered
Physicochemical degradation/Biodegradation
4.6

Atmosferic Oxidation (hours)

4

R

Biodegradation rate (GESAMP, 2016)

6, 7

0.55

Aerobic biodegradation probability

4

3.70 days-weeks

Primary aerobic biodegradation half-life

4, 8

2.99 weeks

Ultimate aerobic biodegradation half-life

4, 8

3.9

Hydrocarbon Biodegradation half-life (days)

3, 4

0.35

Anaerobic Biodegradation probability

4
"-" corresponds to values not found
Values estimated with models of the EPI suiteTM
Results obtained from the literature
GESAMP criteria consider substances to be "readily biodegradable" (R) if, in 28-day biodegradation studies, the following levels of degradation are achieved: in tests based upon dissolved organic carbon (DOC) die-away: ≥ 70%; or in tests based upon oxygen depletion or carbon dioxide generation: ≥ 60% of the theoretical maxima; or where only chemical oxygen demand (COD) and biochemical oxygen demand (BOD5) data are available, the ratio of BOD5/COD ≥ 0.5; or where other convincing scientific evidence is available to demonstrate that the substance can be degraded (biotically and/or abiotically) in the aquatic environment to a level of > 70% within a 28-day period. Otherwise they are "not readily biodegradable" (NR) (GESAMP, 2014).
See Table 1 in the supplementary material for more information on the rating reported by Boethling et al. (1994)
Bioaccumulation/Biotransformation
0.50

Biotransformation half-life (days)

2

2.95

Partition coefficient (log Kow)

2

64.6

Bioconcentration factor (BFC)

4

3

Bioaccumulation rate (GESAMP, 2016)

9

2.95

Adsorption coefficient (log koc)

2
Values collected from the literature and public databases e.g. PubChem
Values estimated with models of the EPI suiteTM
See Table 2 in the supplementary material for more information on Bioaccumulation rate classification (GESAMP, 2014)
Aquatic Toxicity
3

Acute toxicity (GESAMP, 2016)

10

-

Chronic toxicity (GESAMP, 2016)

3, 10
"-" corresponds to values not found
See Table 3 in the supplementary material for more information on Aquatic Toxicity classification (GESAMP, 2014)
Acute Mammals/Human health effects
1

Oral Toxicity (GESAMP, 2016)

11

0

Dermal toxicity (GESAMP, 2016)

11

2

Inhalation toxicity (GESAMP, 2016)

11

2

Skin irritation & corrosion (GESAMP, 2016)

11

2

Eye irritation & corrosion (GESAMP, 2016)

11

2

Toxicity

12

14

Severity

12
See Table 4 in the supplementary material for more information on Human health (Toxic effects to mammals) classification (GESAMP, 2014)
For more information on Toxicity and Severity scores consult Harold et al. (2014)
Chronic Human/Mammals health effects
2

Carcinogenicity (IARC)

3, 13

Yes

Mutagenicity (GESAMP, 2016)

11

No

Reprotoxicity (GESAMP, 2016)

11

No

Sensitizing to skin (GESAMP, 2016)

11

No

Aspiration hazard (GESAMP, 2016)

11

No

Target Organ Toxicity (GESAMP, 2016)

11

No

Sensitizing to respiratory system (GESAMP, 2016)

11

No

Neurotoxicity (GESAMP, 2016)

11

No

Immunotoxicity (GESAMP, 2016)

11
"-" corresponds to values not found
See Table 4 in the supplementary material for more information on Human health (Toxic effects to mammals) classification (GESAMP, 2014)
See Table 5 in the supplementary material for more information on IARC classification
Toxicity tests results

PNECwater, intermittent:

40 µg/L
References
Boethling RS, Howard PH, Meylan W, Stiteler W, Beauman J, Tirado N. 1994. Group contribution method for predicting probability and rate of aerobic biodegradation. Environ. Sci. Technol. 28: 459-465.
Bonn Agreement, 1994. European Classification System, Bonn Agreement: Counter-Pollution Manual. Bonn Agreement, London (Chapter 25).
GESAMP (IMO/FAO/UNESCO-IOC/WMO/WHO/IAEA/UN/UNEP Joint Group of Experts on the Scientific Aspects of Marine Environmental Protection), 2014. Revised GESAMP Hazard Evaluation Procedure for Chemical Substances Carried by Ships, 2nd edition. Rep. Stud. GESAMP No. 64, 126 pp.
GESAMP Composite List, 2016. ANNEX 5 – UPDATED GESAMP COMPOSITE LIST. Available at: https://edocs.imo.org/Final Documents/English/PPR 1-CIRC.3 (E).docx (Accessed: December 12, 2016).
Harold PD, Souza AS, Louchart P, Russell D, Brunt H, 2014. Development of a risk based prioritisation methodology to inform public health emergency planning and preparedness in case of accidental spill at sea of hazardous and noxious substances (HNS). Environ. Int. 72: 157-163.